To deliver best-in-class software to new, existing and mutual customers, Planon maintains a global network of technology partners. Planon values its partners and is looking for long term engagements based on trust, respect and professionalism. It offers its own unique mix of expertise, skills, solutions and services to ensure maximum business value for Planon's customers.
By transforming into an open-platform company Planon facilitates additional value, delivers specialised integration to connect and to bring your apps and other products or features that complement the Planon software.
Why join our network?
Become a Planon technology partner and work together with the leading global provider of Facility Management and Real Estate software:
Named a 'leader' in the Verdantix 2022 Green Quadrant® IWMS
Listed as a 'leader' by Gartner in its Magic Quadrant for IWMS since 2006
Your benefits:
Combining your expertise with Planon's market-leading consultancy expertise
Become part of the Planon solution and integration eco-structure, reducing the number of integrations for your solution
Extend your sales reach through our global network of sales professionals and reseller network
Opportunity to introduce your solutions to Planon's extensive customer base
Let Planon handle the business administration, so you can focus on your technology and core strengths
Planon's open platform simplifies development effort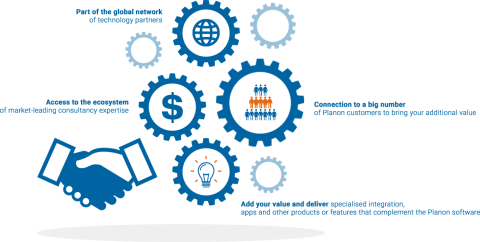 Join our network
Are you interested in adding value by delivering specialised integration, apps and other products or features that complement Planon software? Would you like to receive more information about the options for becoming a Planon partner?